Papi Jiang, one of China's hottest Internet celebrities, whose clips are regularly viewed by millions on social media, has been ordered to stop recording and posting videos online by the State Administration of Press, Publication, Radio, Film and Television (SAPPRFT), citing her use of bad language, according to People's Daily.
Dubbed as China's "No.1 Internet Celebrity" at the very beginning of 2016, Papi Jiang became popular last year for her clips in which she shared her feelings on life and society, as well as reviewing the latest movies.
Once her videos were posted online, many of them immediately gained millions of views, with her online fans claiming her videos resonated deeply with the views and lives of young people in modern China.
In what will come as a disappointment to her legions of fans, video websites hosting her content have received the request from the SAPPRFT, informing them to remove all of her material because of her use of swear words and insults, People's Daily quoted Yingshikoubeibang, a public WeChat account on movies and TV series, as saying.
The WeChat account also claimed that Papi Jiang was worth around 120 million yuan ($18.5 million), and has received financial backing to the tune of 12 million yuan ($18.5 million) from four fund companies.
On Monday, Papi Jiang responded to the report by People's Daily on her official Weibo account, saying that she accepted the criticism of the authorities, and would like to correct her wrongdoings. She also wrote that she will pay greater attention to her language in future.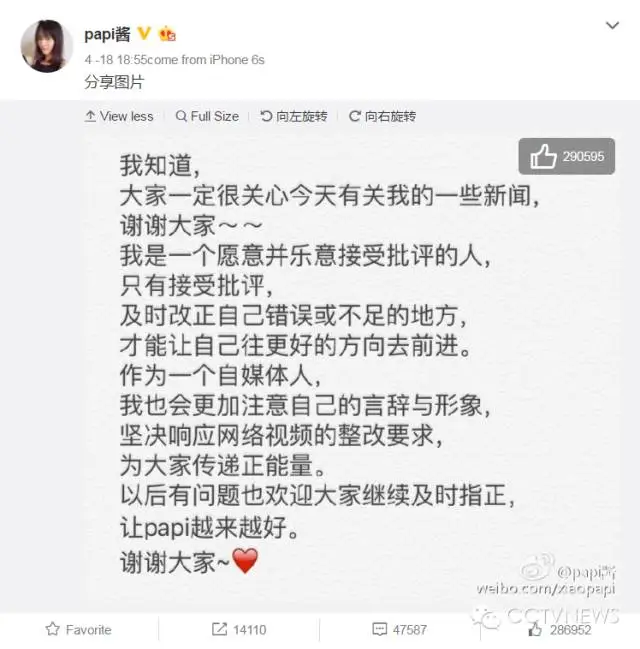 Screenshot of Papi Jiang's weibo
Li Yi, a scholar specializing in Internet studies told the People's Daily that SAPPRFT's decision is in line with the campaign of the Ministry of Culture to "purify cyberspace," both visually and mentally.
Last week, the Ministry of Culture blacklisted 25 live broadcasting platforms due to violent or pornographic content to further regulate the burgeoning online live broadcasting business in the country.
Since the news of Papi Jiang's suspension as an Internet star spread online, "Papi Jiang" has become the most frequently searched term on Chinese social media networks, and netizens are debating over the removal of her videos.
@Geruisiniu: I think what the SAPPRFT has done is right. Internet celebrities have a great influence on the public now. Why don't they spread their opinions in a civilized way? Are they swearing just to grab more views? Or do they think it is appropriate?
@Xiangbuchulainichengjiuzheyangle: Please issue a ratings classification system for video content. If things continue the way they are now, then what can we watch?"
@Shishangbozhu_June: Papi Jiang, you are good. We like you. We support you.