For President Donald Trump, "America first" was both the theme of his campaign, as well as the overarching drive behind his administration's policies.
A new survey by Pew Research of people in 37 nations shows that nearly half a year into his administration, an average of just 22 percent polled have confidence in Trump's stance on international affairs.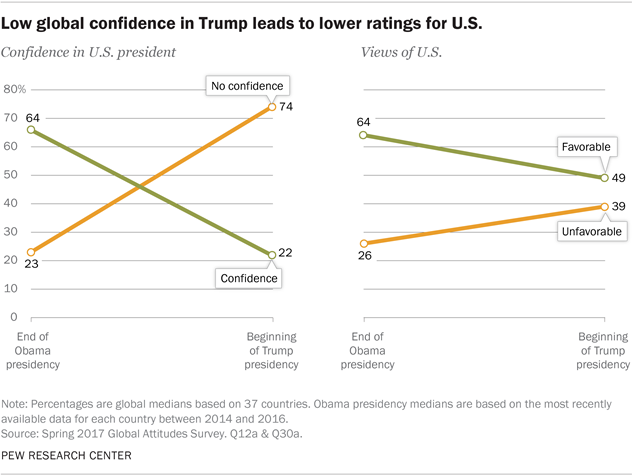 By comparison, 64 percent had confidence in America's role in the world under Trump's predecessor, Barack Obama, the survey found.
While approval for Trump is down in all the countries polled, there are two exceptions: Russia and Israel.
Israeli approval of Trump was at 56 percent while Russian approval for the U.S. president was up to 53 percent.
Some of Trump's policies were particularly polarizing. Withdrawal of U.S. support for international climate agreements saw 71 percent of those polled disapproving, and withdrawal from support for major trade agreements had a 72 percent disapproval rating.
Of the countries polled, Trump's personality characteristics were also seen as problematic. Seventy-five percent polled viewed him as arrogant, 65 percent viewed him as intolerant, and 62 percent as dangerous.
Despite the largely unfavorable view of Trump, the majority of those polled believed that relations between their countries and the United States will remain largely unchanged during Trump's time in office.