Despite wars, a growing population, natural disasters, and migrant crises, there are 216 million less undernourished people in the world today than 25 years ago, according to a new report by a trio of food-focused United Nations groups.
Using the latest available data and estimates for 2016, the report found that "about 795 million people in the world – just over one in nine – were undernourished [during] 2014–16." While noting that the figure represents "an unacceptably large number of people," it highlighted that progress had been made in reducing both the overall number of hungry people globally, and the percent of people in most countries that are hungry.
While the global population has increased by 1.9 billion in the last quarter century, the prevalence of undernourishment has fallen by almost half since 1990-1992 — 44.5 percent — from 18.6 percent to 12.9 percent in 2014–2016.
Sortable table: Percent undernourished

Note: There is no data for Taiwan. The U.N. noted any percent below 5 as >5, which have been changed to 4.9 here for comparison purposes. Therefore any figure marked 4.9 could represent 4.9 – 0 percent.
Why have the numbers gone down? Economic growth and poverty reduction were in large part responsible, according to the report.
Watch the animated maps below to see how hunger has changed across the world. The darker shades represent a higher proportion of hungry people within that country's population.
Africa

For countries monitored in Africa, the number of hungry people overall increased by 23 percent, from 182 million in 1990-92 to 224 million in 2014-16. Breaking it down by regions, sub-Saharan Africa increased 25 percent while northern Africa decreased by 33 percent over the same time frame.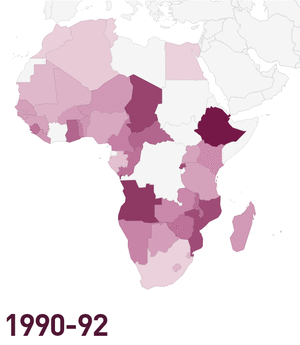 Asia

According to the report, changes in large populous countries, notably China and India, played a large part in explaining the overall hunger reduction trends in the developing regions.
"Rapid progress was achieved during the 1990s, when the developing regions as a whole experienced a steady decline in both the number of undernourished and the percent of undernourished," the report said.
Countries in southeast Asia had the most improvement across Asia, showing a 55 percent decrease hungry people. Meanwhile hunger in East Asia decreased by just over 50 percent, while hunger in the central Asia/Caucasus region decreased by 40 percent, and hunger in south Asia decreased by 3.6 percent. But the number of undernourished people in western Asia, which includes Iraq, Lebanon, and Yemen — increased 137 percent, more than doubling from 8 million to 19 million.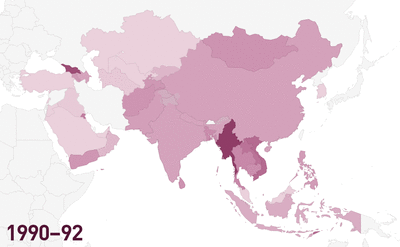 Latin America and the Caribbean

The number of undernourished people in Central and South America was cut nearly in half, from 66 million in 1990-1992 to 34 million in 2014-2016.